Best Crypto Wallets You Can Use in Canada
A Bitcoin wallet can help you keep track of your cryptocurrency holdings while also allowing you to send and receive bitcoins.
The solution is a cryptocurrency wallet. Web, mobile, desktop, paper, and hardware wallets are just a few examples of cryptocurrency wallets. Regardless of the type of wallet you select, they all serve the same purpose. Some wallets, however, function better than others depending on how you want to utilise your cryptocurrency.
When selecting a crypto wallet, the most important element to consider is how you intend to utilise your cryptocurrency. A hardware wallet is certainly your best option if you intend to acquire and hold your investment for the long term.
Limiting the amount of money that can be accessible through less secure platforms, such as exchanges, while keeping the majority of your money in a more safe wallet somewhere offline, is a good risk management technique. To reduce risk, you might want to have many wallets.
Why are crypto wallets important?
Unlike a traditional wallet, which can hold physical cash, crypto wallets do not store your cryptocurrency. Your assets are stored on the blockchain, but only a private key can access them.
Your keys verify that you own your digital money and allow you to transact with it. You lose access to your money if you lose your private keys.
What are the types of Crypto Wallets?
Hot wallets – These wallets rely on keys that have been generated or saved on a device with internet connectivity. Hot wallets are convenient, however they are typically regarded as less secure than cold wallets.
Cold wallets – Cold wallets rely on keys generated on a device that has never had internet connection. Hardware wallets, also known as cold wallets, are wallets that are held on physical devices.
Hosted wallets – These are hosted on a server that you don't have access to. Hackers are attracted to hosted wallets because they hold all of the cash from the wallets on the server. Different levels of safety are offered by hosted wallets, and some are even guaranteed by other parties, so it's crucial to understand what your hosted wallet has to offer.
Decentralized wallets – A decentralised wallet means that the keys to your cryptocurrency wallet are only in your possession. However, a decentralised wallet does not provide perfect privacy. It basically means you don't transfer, receive, or store your Bitcoin through a third party, avoiding some of the security risks associated with hosted wallets.
Paper wallets – A paper wallet is a piece of paper on which a crypto address and associated private key are printed as QR codes. After that, these codes can be scanned to carry out Bitcoin transactions.
Mobile wallets – Mobile wallets are similar to desktop wallets, except they are created exclusively for smartphones. These are quite useful since they allow you to transmit and receive bitcoins via QR codes.
Desktop wallets – Desktop wallets are the most prevalent sort of wallet available, and they are downloaded and installed on your computer. Most are simple to set up and maintain and are compatible with Windows, Linux, and Mac, while others may be confined to a specific operating system. Many cryptocurrencies provide a desktop wallet that is tailored to their coin.
Web wallets – Web wallets allow you to access blockchains directly from your browser without having to download or instal anything. Both exchange wallets and other browser-based wallet providers fall within this category.
What Should You Look for in a Cryptocurrency Wallet?
Using Bitcoin and other cryptocurrencies necessitates the use of cryptocurrency wallets. They are one of the most basic pieces of infrastructure that enable blockchain networks to transfer and receive funds.
Each wallet type has its own set of benefits and drawbacks, so it's critical to understand how they function before transferring funds.
What you want to do with your cryptocurrency will determine which crypto wallet is ideal for you. A hardware wallet is unquestionably the most secure method of storing Bitcoin.
Choose the Best Crypto Wallet for Canada
1. Shakepay
Shakepay is a Canadian platform that allows you to purchase, sell, and store Bitcoin and Ethereum using your smartphone or computer. While the Shakepay app does not allow customers to keep their own cryptocurrency private keys, the firm makes it simple for customers to transfer their funds to their own personal crypto wallets.
Shakepay also features a function called Shakepay Change, which allows customers to buy a tiny amount of Bitcoin every time they use their debit or credit card to make a purchase.
2. Binance
Binance is the world's largest cryptocurrency exchange for Bitcoin and altcoins. In 2018, it purchased Trust Wallet and currently operates the mobile wallet.
Trust Wallet is a free app that supports over 40 different blockchains. It also supports staking, which allows you to earn more cryptocurrency by staking your existing holdings.
3. Newton
Newton is a Canadian cryptocurrency exchange that is still in its infancy. The exchange is becoming increasingly popular as new coins and services are added on a regular basis.
Newton's user interface is clean and professional, instilling in the user a sense of trust and admiration for Newton's meticulous attention to detail.
Creating a well-thought-out user experience in the cryptocurrency space is a difficult task. It's difficult to ensure that money flows efficiently into and out of the exchange. Newton has done their best, and we're delighted to declare that their best is better than the majority.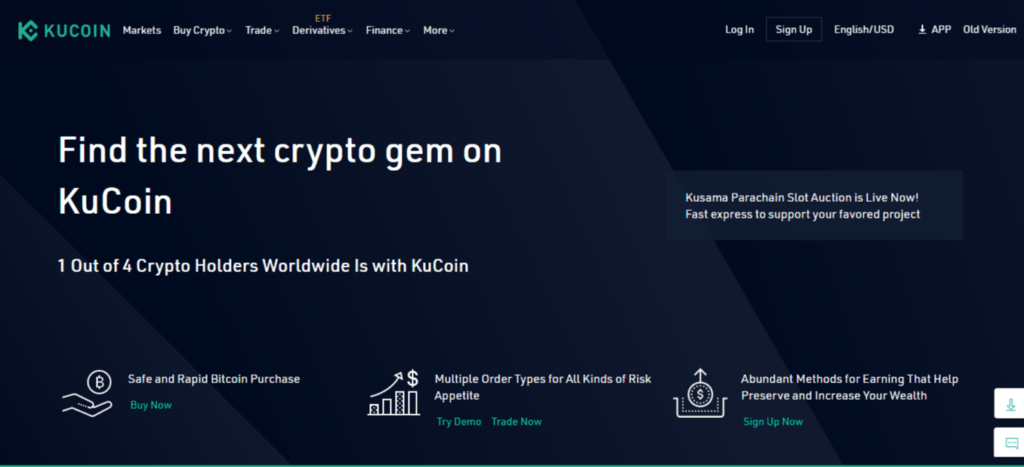 4. Kucoin
Kucoin intends to provide customers with even safer and more convenient digital asset transaction and exchange services by combining premium assets from across the world and building a state-of-the-art transaction platform.
KuCoin is basically an exchange platform, as we've said several times in this KuCoin wallet review. This means you'll be able to trade cryptocurrencies right from the convenience of your wallet.
5. WhiteBIT
WhiteBIT has established an insurance fund to protect and secure the assets of its customers, which is renewed by transaction fee contributions. The assets in WhiteBIT's cold storage are currently protected by the fund under a USD 30 million coverage plan.
Because we provide everything you need to make money on cryptocurrencies, WhiteBIT is suited for both experienced traders and newbies. This is an easy-to-use trading platform that displays the current Bitcoin and other cryptocurrency exchange rates. WhiteBIT makes it simple and secure to buy and sell cryptocurrencies.
Other Best Crypto Wallets For You
6. Exodus
Exodus is a desktop and mobile wallet with a straightforward user interface and a built-in exchange. The option to shift between an increasing variety of cryptocurrencies is one of Exodus' most popular features. Exodus now supports over 100 different cryptocurrencies for trade.
This wallet is ideal for newcomers to cryptocurrency because of its simplicity. It also has excellent support, which is an important element for newcomers entering what many believe to be a perplexing business.
Exodus offers the option of establishing bespoke fees to keep expenses down, as well as the option of automatically setting a charge to ensure a swift transaction.
7. Ledger
Since its foundation in 2014, the Ledger company has made significant progress. It's ideal for anyone who wants to keep their cryptocurrency safe. The handheld gadget is handy and secure, with an LED display for payment validation and a PIN for confirmation.
The Ledger Nano S, Ledger's initial cryptocurrency product, was one of the first hardware wallets on the market and dominated the field for several years.
Hardware wallets from Ledger have been and continue to be the most popular in the industry. The Ledger also includes a USB Type-C connector, which may be used to connect it to a desktop computer or a smartphone instead of Bluetooth.
8. Mycelium
Mycelium is an open-source Bitcoin wallet that is only available on mobile devices. At the moment, Mycelium only accepts Bitcoin, Ethereum, ERC-20 tokens, and the FIO token. In some ways, Mycelium is comparable to the Electrum wallet, with the exception that it is exclusively available on mobile devices, has a more modern user experience than Electrum, and includes a built-in exchange.
Mycelium also includes a few other unique features, such as hardware wallet compatibility, which allows users to store their Bitcoin on an offline storage device while still viewing their holdings through Mycelium's user interface.
9. Electrum
One of the first Bitcoin wallets was Electrum. It's been around since 2011, two years after Bitcoin's launch, and hasn't altered much since then. Its wallet excels at this core function, despite its bare-bones user interface and adherence to only Bitcoin. Due to its numerous settings, Electrum is best suited for expert users.
Electrum is ideal for more experienced Bitcoin users who seek outstanding security and customizability in a simple interface.
10. Coinbase
The Coinbase software wallet is both adaptable and user-friendly, making it an excellent choice for newcomers. Coinbase is a prominent cryptocurrency exchange where you can effortlessly transfer funds from your wallet to trade.
Although there are miner fees to consider, storage is free. You can keep many cryptocurrencies in your Coinbase wallet.
How to choose the best crypto wallets for Canada?
Think about your demands and examine a variety of wallets depending on numerous crucial aspects, such as the ones listed below:
Type of wallet – This is a matter of personal preference. If security is your top priority, for example, you'll want to look at hardware wallets. However, if you want to be able to access your funds quickly and easily, a mobile or web wallet may be the best option.
Ease of use – Sending, receiving, and storing Bitcoin, especially for newcomers, can be difficult and perplexing. It's critical that the wallet you choose is appropriate for your degree of technical knowledge and crypto experience.
While crypto newbies may prioritise choosing a wallet that is straightforward to set up and use, seasoned investors may seek out more complicated features such as an in-wallet exchange and multisignature transactions.
Security – Learn about the wallet's security features, like as 2-factor authentication and multisignature support. Will your private key be stored in the cloud or on your computer? Has there ever been a security breach with the wallet?
Supported Crypto Wallet – Are you seeking for a wallet that just saves one cryptocurrency, such as bitcoin, or a multi-currency wallet? Make sure the wallet you pick is compatible with the cryptocurrencies you'll be storing, and keep in mind that some coins and tokens can only be stored in an official wallet.
Team behind wallet – After that, see what kind of information you can get about the folks who own the wallet. How long has the company been in operation? What credentials do they have? Is the wallet being upgraded and improved on a regular basis?
Cost – While most crypto wallets are free to use, choosing a hardware wallet will need you to part with some money. When making your choices, keep the upfront price and shipping expenses in mind. Some wallets will charge you a fee for each transaction you make, so read the fine print to see whether that's the case.
Using Bitcoin and other cryptocurrencies necessitates the use of cryptocurrency wallets. They are one of the most basic pieces of infrastructure that enable blockchain networks to transfer and receive funds.
Each wallet type has its own set of benefits and drawbacks, so it's critical to understand how they function before transferring funds.
What you want to do with your cryptocurrency will determine which crypto wallet is ideal for you. A hardware wallet is unquestionably the most secure method of storing Bitcoin.