Top 10 Must Read Books for Financial Success
Do you want to improve your financial knowledge? Well, you're in a right place. In fact, nowadays many people face difficulties while choosing the right financial path.
There are plenty of financial books that have influenced the lives of many people over the years with a great reputation for providing insightful and valuable information.
Reading a book allows you to digest a large quantity of information in a short amount of time, and it is one of the most effective strategies to enhance your skills.
We've picked the Top 10 Financial books for you, these books will help you succeed in your life.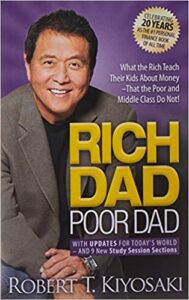 The book is a light-hearted tale in which the author recounts his learning and experiences from his two fathers, one whom he dubbed Poor Dad and the other whom he dubbed Rich Dad.
Rich Dad, Poor Dad is undoubtedly the most enlightening book that has altered people's perspectives on investing and jobs. It not only explains how and why to invest but also pushes the reader to instil this culture in their children.
He inspires readers to avoid working just for the purpose of making money. He urges readers to get down to business and start learning. This book debunks the idea that anyone may think about money the way his wealthy father did and accumulate wealth in the process.
2. The Millionaire Next Door
Author – Thomas J. Stanley and William D. Danko
The book is a collection of the two author's research on the profiles of American millionaires. It was originally published in 1996. It's a look at everyday billionaires in America who don't make the news, diving into how they make, keep, and expand their wealth.
The Millionaire Next Door is a book that delves into the complexities of today's billionaires, people who you might not expect to be affluent, and the habits and decisions that led to their success.
According to the book, the wealthy budget, live within their means and enable their adult offspring to succeed on their own. This will show you how to solve the saving and making money investing equation. Perhaps you're always trying to figure out what goes on in the mind of a millionaire.
This book debunks the myth that the wealthy always drive fancy automobiles, have a vault full of treasure, and live in mansions all over the world. This wonderful effort is aimed at folks who are easily swayed by material possessions.
3. The Intelligent Investor
Benjamin Graham's The Intelligent Investor, first published in 1949, is a well-renowned book on value investing. The book teaches readers how to use value investing in the stock market to their advantage. The book has long been one of the most popular investment books, and Graham's legacy lives on.
Many famous investors have praised The Intelligent Investor for helping them learn how to estimate stock market value and successfully pick stocks for their portfolios. The book's major study focuses on value investing, the Mr. Market allegory, and determining value.
4. The Total Money Makeover
The Total Money Makeover teaches people how to budget and how to get out of debt.
The book teaches the seven baby steps to take in order to achieve financial stability, as well as how to plan ahead for future financial events, such as retirement, and presents success stories of people and couples who have done so.
Think and Grow Rich is based on Hill's prior book The Law of Success, which is supposed to be the culmination of more than two decades of research into the lives of numerous people who have built personal fortunes.
The book's lessons are distilled from interviews with the most successful people of the day, including Henry Ford, John D. Rockefeller, and Charles M. Schwab.
Hill takes their lessons and breaks them down into simple principles that everyone can understand. It's not just about making someone monetarily successful; it's about making them successful in all parts of life. He wants you to pursue your wildest dreams, no matter how outlandish they may seem.
You will get 14 Principles listed in the book which will inspire you to achieve your goal and success.
6. The Richest Man In Babylon
Author – George Samuel Clason
George S. Clason's book The Richest Man in Babylon, published in 1926, offers financial advice through a series of parables set 4,000 years ago in ancient Babylon. The book is considered a classic of personal financial guidance and is still in print nearly a century after the parables were first published.
This is the business book that will teach you how to keep your money and make more of it. May they prove to be a sure key to satisfying financial development for you, as they have for millions of others.
7. Your Money Or Your Life
Vicki Robin and Joe Dominguez's Your Money or Your Life was updated in 2018, but the basic message remains the same as in the 1992 bestselling original called money cannot buy happiness.
This personal finance classic is still the greatest book for learning the blueprint for developing wealth and a healthy relationship with money, and it comes highly recommended by the Investopedia Financial Review Board.
Dominguez, a self-made millionaire who obtained his first job to support his family at the age of seven, devised the nine stages mentioned in the book.
This guide stands out from other similar works because of Robin's ability to translate Dominguez's steps to riches into digestible directions that not only educate the reader on how to deal with money but also how to react to and think about money and priorities.
Your Money or Your Life will not only show you how to get started on your path to financial independence, but it will also shift the way you think about money, consumerism, thankfulness, and the concept of "enough."
8. The Little Book of Common Sense
John C. Bogle, the founder and former CEO of the Vanguard Group, published The Little Book of Common Sense Investing in 2007 and 2017. He works on index funds, which provide investors with the average market return, as well as keeping investing costs low, such that index fund investors continuously outperform other investors after costs.
"The simplest and most efficient investing plan is to buy and hold all of the nation's publicly held firms at very cheap cost," says Bogle in his sixth book. The basic index fund that holds this market portfolio, according to Bogle, is the only investment that ensures a fair share of stock market returns.
The book expands on the same index investing strategy that Bogle used to build the Vanguard Group and make money for his clients. It's chock-full of in-depth insights and practical advice on how to implement tried-and-true investment strategies into your portfolio.
9. The One-Page Financial Plan
The One-Page Financial Plan removes the confusion surrounding financial management. This book not only helps you figure out what your financial goals are, but it also shows you how to achieve them in a one-page plan.
Carl Richards, the author, shows how one's behavior impacts whether or not they will succeed financially, which stocks they may invest in, and how much money they can make.
The book emphasizes committing to a process of guessing and making adjustments when things go wrong rather than striving for financial perfection.
This book is written for people of all ages since it simplifies the complicated process of financial planning.
10. I Will Teach You to Be Rich
Being wealthy does not imply not spending any money. Financial guru Ramit Sethi explains in his New York Times and Wall Street Journal book I Will Teach You to Be Rich that you can spend your money guilt-free as long as it is invested and allocated appropriately.
This book explains how to avoid all of the most frequent financial problems, from paying off student loans to saving money on a monthly basis, and even how to avoid late penalties.
The book also emphasizes the need of lavishing on the things that one enjoys while slashing costs on the things that one does not!
When it comes to learning about a certain topic, such as personal finance, nothing beats an old-fashioned book. These 10 books will assist you in beginning your financial journey.
Go shop these books and let us know how you thought about the books and if you have any recommendations for other books.